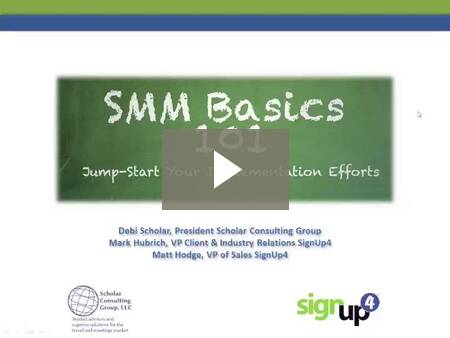 Earn one (1) credit hour in Strategic Planning by viewing this webinar.
The webinar must be viewed in its entirety.*
Want to learn how to jump-start your SMMP?
You've got the go-ahead from procurement to implement a Strategic Meetings Management Program (SMMP). Fantastic! Now what? Knowing where to start, which stakeholders to involve and what steps to take to drive a successful strategy can be unfamiliar territory to meeting and event professionals of all levels.
This free webinar will help guide you through a high-level "getting started" process in which you will learn:
Typical components to SMMP
Pre-planning to get started
Key steps for implementation
Common pitfalls to avoid
*To receive credit you MUST register and view the session individually. Group registration and viewing will not count towards credits.
*Please allow 3-5 business days for certificates to be issued.