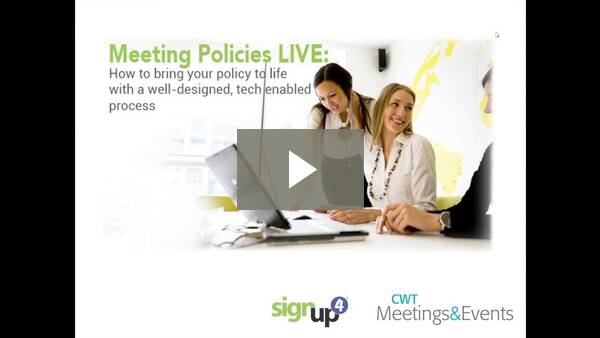 Earn one (1) credit hour in Strategic Planning by viewing this webinar.
The webinar must be viewed in its entirety.
Join guest presenters Kari Wendel, Senior Director SMM Strategy & Solutions for Carlson Wagonlit Travel (CWT) Meetings & Events along with Collette Williams, Global Program Manager CWT. Both SMM experts bring over 35 years of strategic meetings, travel and sourcing to this session.
This session will walk through the value of designing a meetings policy and aligning that design to the configuration and use of your meeting technology solution. We will review best practices to ensure the processes are easy to follow and compliance and adoption to using both the policy and technology are maximized. For most, the acquisition of technology seems to be the right first step in designing and launching an SMM program. However, many companies have long held technology licenses and made little to no progress on maturing their SMM strategies.
Come hear how to avoid this scenario and understand the following:
-The role of meeting technology in a successful SMM program
-The reality of meeting policies
-To Mandate or not to Mandate?
-Key touch points where your technology makes your policy come alive
-Avoiding pitfalls during this process