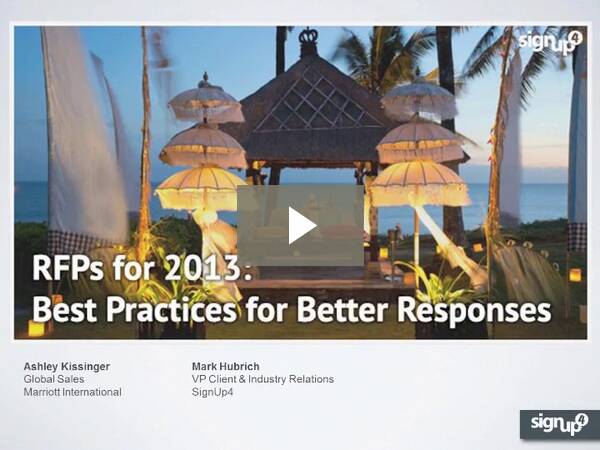 Ashley Kissinger, Global Sales for Marriott International and Mark Hubrich, VP of Client & Industry Relations at SignUp4 will walk you through what happens to your electronic RFPs after you click "submit", and how to ensure you are receiving the best responses.
Topics include:
Statistics on Traditional RFP vs. Electronic RFP
Understanding what hotels are able to view
How each item in your RFP affects a response
 Best practices in the industry to make your RFPs a priority
About Ashley
In her current role at Marriott, Ashley is one of five directors responsible for providing strategic leadership for the Corporate Global Sales Team of 70 associates, managing all revenue streams for approximately 300 multi-national customers generating $4B in annual revenue for their 3,700 properties worldwide. She is also responsible for developing best-in-class total account managers, and leveraging Marriott's core competencies to develop value-added products and services for customers.