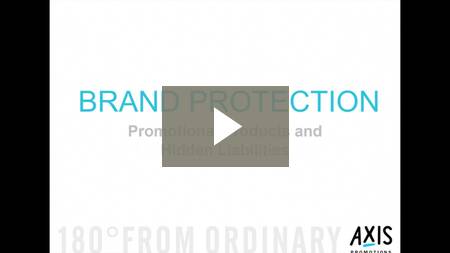 Product Safety and Regulatory Compliance represent the most significant change facing companies that purchase promotional products and branded merchandise.  Most marketing and event professionals do not realize that any items they put a logo on are considered "Consumer Merchandise" and therefore must meet any testing requirements or regulations.  If you approve, distribute, or purchase promotional products, branded merchandise or corporate gifts for your company or others in any capacity, do not miss this opportunity to learn best practices and questions you should ask in order to protect your brand and prevent costly errors that could result in a recall.
Join Larry Cohen, CEO of Axis Promotions, and Shamini Peter, Product Safety and Compliance Director of Axis Promotions and board member of PRAG (Product Responsibility Action Group) and educate yourself on product safety as it relates to marketing programs and learn what questions you can start asking your vendors today.
Attendees can expect to learn …
Why product safety affects marketing and event planning
Why product safety is the responsibility of all parties in involved in manufacturing and distribution
How to identify red flag products that might require testing documents or special labeling before they can be distributed
How to protect your brand by asking vendors the right questions
How to identify trustworthy vendors who understand product safety
How to prevent costly mistakes by understanding how product safety regulations vary by state, country and continent
Larry Cohen
Larry Cohen is President and CEO of Axis Promotions, a marketing agency focused on brand development in the promotional product marketplace.  Since founding Axis in 1989, Larry has grown his company to a global organization with over 60 employees across the US and partners in 54 countries worldwide.  Axis' client base covers an exceptionally broad cross section of industries and includes some of the world's most well known brands such as P&G, American Express, Bloomberg, ESPN, jetBlue and Dunkin' Donuts.  Today, Axis is ranked as one of the top promotional merchandising agencies in the United States and was recently awarded the distinctions of: Top 40 Distributor, Counselor Magazine's Best Places to Work, SAAGNY Distributor of the Year, PPB Rising Star and Counselor Hot List.
Shamini Peter
Shamini Peter serves as Axis Promotions, Director of Product Safety and Compliance and has worked with the Axis for 7 years. She oversees the vetting of suppliers, product testing and the logistics of Axis custom orders. Shamini interfaces directly with clients throughout the production cycle, ensuring that all requirements for safety and compliance are met as they relate to each unique project. She is a graduate of The University of Western Australia and prior to Axis, worked internationally in manufacturing and freight forwarding, gaining experience in international commerce and logistics. She is currently a board member on the Promotional Products Association International's (PPAI) Product Responsibility Action Group where she helps create industry policies on product safety and regulatory compliance.