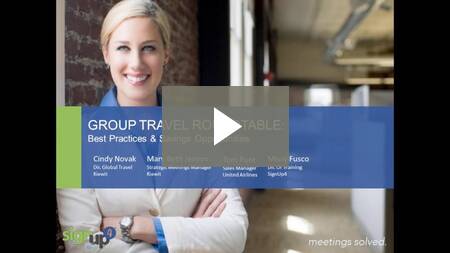 Budgetary pressure will never disappear, therefore finding opportunities for savings is a no-brainer. Also, we're now experiencing a shift of meeting spend being directed toward the event and its content and less toward travel. So, if you manage your organization's travel, what can you do to prepare? Group travel has profound benefits, but if your organization hasn't implemented it through your travel policies, you're missing out!
The major concerns a planner should have around group travel for their events is how to monitor compliance as it relates to their meeting's individual budget. A company could have clearly defined policy around general business travel, but those policies may not fit or be practical for the meeting budget.
Join travel experts Cindy Novak, Director of Global Travel and Mary Beth Jenson, Strategic Meetings Manager, both of Kiewit, Tom Punt, Sales Manager (Midwest/Canada) with United Airlines, and Missy Fusco, former Sr. Manager of Travel & Events at Great West and current SignUp4 Director of Training for this must-see panel discussion.
Panelists will cover topics including:
How it works & which stakeholders should be involved
The details: Who benefits & how
How to alleviate negotiation challenges
General best practices for success
Cindy Novak
Cindy's role as Director, Global Travel & Meetings with Kiewit Corporation involves relationship and contract management of global agencies, corporate travel and meeting technologies,  supplier programs for airline, car rental and hoteliers. She is has 30 + years of industry experience and speaks frequently on travel industry topics including traveler safety and security, policy development and travel technology.
Mary Beth Jenson CMP, CMM
With more than 15 years of event management experience, Mary Beth is leading Kiewit's Strategic Meeting Program.  In her previous role, she was responsible for implementation of a global SMM program for BNY Mellon.  Mary Beth was awarded the MPI Planner of the Year in 2011 and has been a speaker at MPI WEC and industry events.
Tom Punt
An accomplished travel industry and airline sales professional with a proven track record in people management and development, strategic selling, implementation and management of corporation and travel management company agreements in all types of competitive environments.  Tom has been Sales Manager (Midwest/Canada) with United Airlines for over 10 years working with clients in varied phases of the travel management spectrum all the way from unmanaged travel to global travel policies.
Missy Fusco CMM, CCTE
Missy Fusco has been in event planning/management for over 25 years. Starting by planning bus ski trips for her friends to upstate New York she realized that the detail involved was her passion. From there she went into corporate event planning which she did for more than 20 years spending the last 15 years working for a major financial company taking on not just event management but travel and expense management as well. She holds both her CMM in event management and CCTE in travel management.