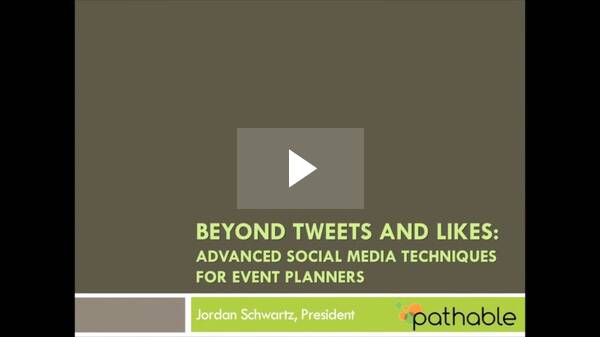 Earn one (1) credit hour in Marketing by viewing this webinar.
The webinar must be viewed in its entirety.*
You know the social media for events basics: if people like your brand on Facebook and retweet you on Twitter, you multiply the reach of your message. Is that all there is?
Join Jordan Schwartz, CEO of Pathable and social media guru on taking your social strategy to the next level.
Go deeper and learn the cutting edge tricks of the trade that the digerati and expert social media marketers use to promote event and connect with their audience.
You'll learn:
How to evaluate which of the dozens of tools, including Twitter, Facebook, LinkedIn, Foursquare, Pinterest, Instagram, and more are useful for YOUR event, and which not to waste your time on
Why you need a mobile app, and what the limits of "mobile only" solutions are
Ninja tricks for getting the most out of social media with the least time
*To receive credit you MUST register and view the session individually. Group registration and viewing will not count towards credits.
*Please allow 3-5 business days for certificates to be issued.