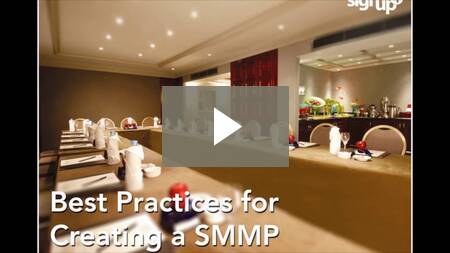 Your company doesn't currently have an SMMP program in place. However procurement and management are probing in to meeting spend and want to know what you are tracking and how. Time to get a program in place. Join Missy Fusco, CMM, CCTE and Director of Training for SignUp4 to explore where you start and what are the steps that should be taken to gain approval to institute an SMMP for your company.
In this introductory webinar, Missy will cover the following topics:
What is an SMMP?
Why does a compnay need a program?
Tying policy to the goals and objectives of your organization
What are the steps to get it started?
Who should be involved in the discussions?
Getting buy-in from senior leaders
Writing policy
Launching and communicating policy
Putting it all together
Q & A
Missy Fusco
Missy Fusco has been in event planning/management for over 25 years. Starting by planning bus ski trips for her friends to upstate New York she realized that the detail involved was her passion. From there she went into corporate event planning which she did for more than 20 years spending the last 15 years working for a major financial company taking on not just event management but travel and expense management as well. She holds both her CMM in event management and CCTE in travel management.